Falafels , we tasted these for the first time from Sainsbury's. The big list of ingredients at the back of the pack made me think that it's complex to try at home. Unlike the ball-shaped falafels i tasted , Rachel has posted a healthy version
Coriander Falafel
on her blog . I can choose to ignore the shape as long as it is healthy and tasty. Her method of making falafels looked very simple to me with all the ingredients i regularly stock.I simply followed her recipe with an exception of replacing lemon juice with salt .
Ingredients:
Boiled Chickpeas - 200 gms
Chopped Onions - 1 cup
Coriander - a small bunch
Cummin powder - 1/2 tsp
Coriander/Dhaniya powder - 1/2 tsp
Plain flour - 1 tbsp
Salt - 1/2 tsp
Garlic cloves - 3
Olive oil - 1 tbsp
Cooking method:
Simply pulse all the ingredients in a blender except plain flour and reserve a few coriander leaves for the decoration/garnishing. Make small patties and roll it in the flour. Heat 1 tbsp of olive oil in a large flat non-stick pan and cook these patties until it turns golden brown on one side
Repeat the process by turning it over using a flat wooden spoon .Cook in a low flame for best results.Oops ! I realised that i've missed out the ground black pepper . That's okay, i'll add it next time.
The coriander i've used is homegrown and there's a big story to it. With super hot summer in the UK this year,we were expecting a good supply of coriander but three batches of corainder were completely eaten away by the slugs and snails. They are the biggest challenge for organic gardening.I even tried lifting the plants back to a pot with compost. Nothing worked. I was not ready to give up and the coriander i used for this recipe is the fourth batch of coriander which made it to our plate finally. It's worth all the effort, they were very much flavourful.
Sure will try it with a different shape again to get to perfection.The shapes might not look gr8 but it was truly deliiiiiiicccccccciiiiioooooouuuuus!
As i used Coriander linking it to this month's
Cooking With Herbs
hosted by Karen @
Lavender and lovage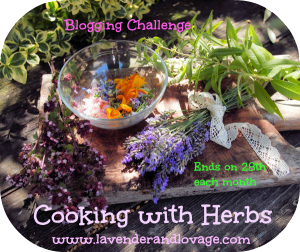 Linking it to this month's
Bookmarked Recipes
hosted by
Jacqueline